NEW 2017 Dates at Rene's Studio
Sept 18/19   &  25/26
10am – 2pm  / $220  (or $60 each)
Make a gift of art, fill your home with paintings or collect them in your sketchbook as you work with artist Rene Eisenbart, who will take you step-by-step painting colorful birds in water media.
From the initial sketch to the finished painting, you'll develop skills for making art that is accurate and expressive. Learn tricks of the trade and paint handling tips. Study how to use good design in your paintings. Explore mixing color.
This class includes technique demonstrations by Rene as well as working time for you. Rene gives lots of individual attention, to support you in creating your own expression. She'll help you recognize and celebrate your strengths while looking for ways to grow or stretch your skills.
If you are just beginning to explore artistic expression, you will find this class to be a supportive environment. Give yourself space to learn and enjoy the experience. If you are coming with a proficiency in place, you might be looking for inspiration, camaraderie, structure, or feedback on your work. Chances are, you will find that, and more.
REGISTER by mail
WHAT TO BRING (complete supply list on registration link above)
A sack lunch, beverage, sweater
Reference material — preferably several images showing different similar views of the same bird. Look for images online that can be printed and used
…or use Rene's reference.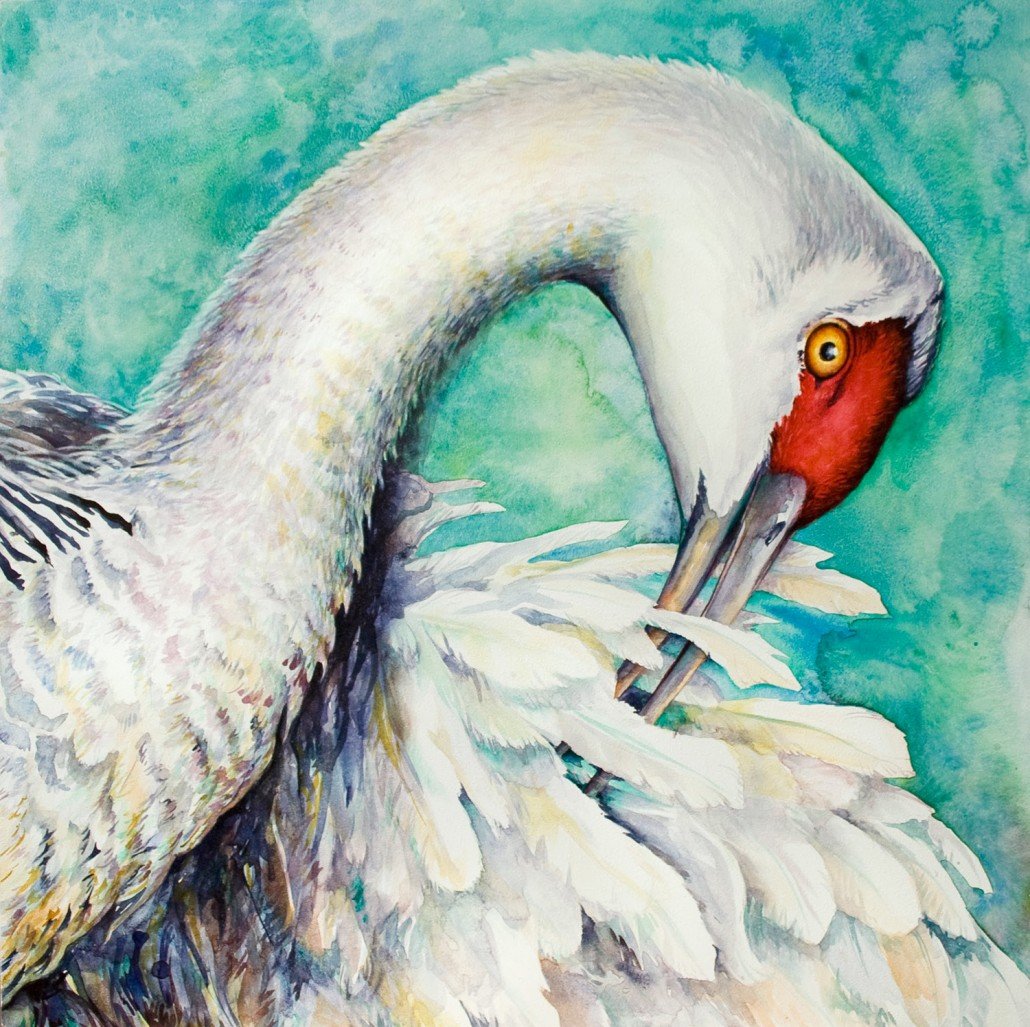 Each day we will begin at least one new piece.
Work with Rene's reference and agenda or bring your own — there is always flexibility to move whatever direction your art (or heart) takes you.  
DAY1
We'll start with a fast painting exercise to warm up. We'll discuss drawing vs. tracing or transfer (we use both techniques in this workshop as there is much to gain either way). Then Rene will offer a refresher on painting strategies for those who wish and basic design techniques. She will also cover more advanced concepts such as the how and why of hard and soft edges. We'll prepare textured paper to use on day 4
DAY2
Work with Rene one-on-one to iron out any issues as you begin to develop your subjects. We'll do a quick image transfer of your chosen subject onto treated paper and begin to paint it. Rene will set up a pour station and demonstrate how to create loose, interesting backgrounds — some for future experimentation. Use the transfer method again to start a duplicate painting on untreated paper to understand the difference.
DAY3
We'll choose subjects and do a quick image transfer onto textured paper to begin painting over it. Paint over your pours, adding negative shapes and lifting out shapes. Incorporate stamping and patterning into your artwork to make it sing! Rene will offer feedback on work in progress — feel free to also bring other artwork for critique.
DAY4
We'll do a quick image transfer onto textured paper and begin to paint over it, using our design strategies. Try a technique for quick visual texture using resist. Rene will show how she repurposes a "failed" painting, using watercolor ground and collage. There will be a group art share (we all learn from each other) with ideas from Rene for fine tuning.