Wed 1 – 5pm / Thurs & Fri 9am-5pm
Cost is $220
Location: Maupin Oregon / Ask about lodging options
Download Description / Registration / Materials (pdf)

(print and mail registration with payment)
Take Your Art To The Next Level 
Make a unique art expression while learning collage and new painting techniques. Birds and fish could be your subject or choose any other — flower, portrait, etc, to design your paintings. Rene will cover basic watercolor painting and also introduce techniques for creating layers of complexity, interest and unity in your work with texture and patterning. Plan to work on several paintings during the workshop as you discover what resonates with you. You'll have one finished painting plus several starts to work on later.
Includes demos by Rene plus one-on one work with each participant.  Any level of experience is welcome. Be prepared to play and experiment – that is how we learn, and where the joy is!
Bring normal watercolor painting supplies, several paintings that you're not happy with and/or images that you'd like to include in your art, reference images, materials for collage. Acrylic paints if you have them (Rene will also bring some). Complete Supply List with detailed suggestions on how to prepare for the workshop will be available.
Lodging and Lunches
If you're coming from out of town, there are several lodging options. Write and I can send more info.
Lunches will be provided by the Maupin Market for $8 each. Opt out if you prefer and bring your own lunch.
Want to learn more about my art process?
Check my BLOG:
Questions? Contact me at:
rene.art@gmail.com or 503-890-9668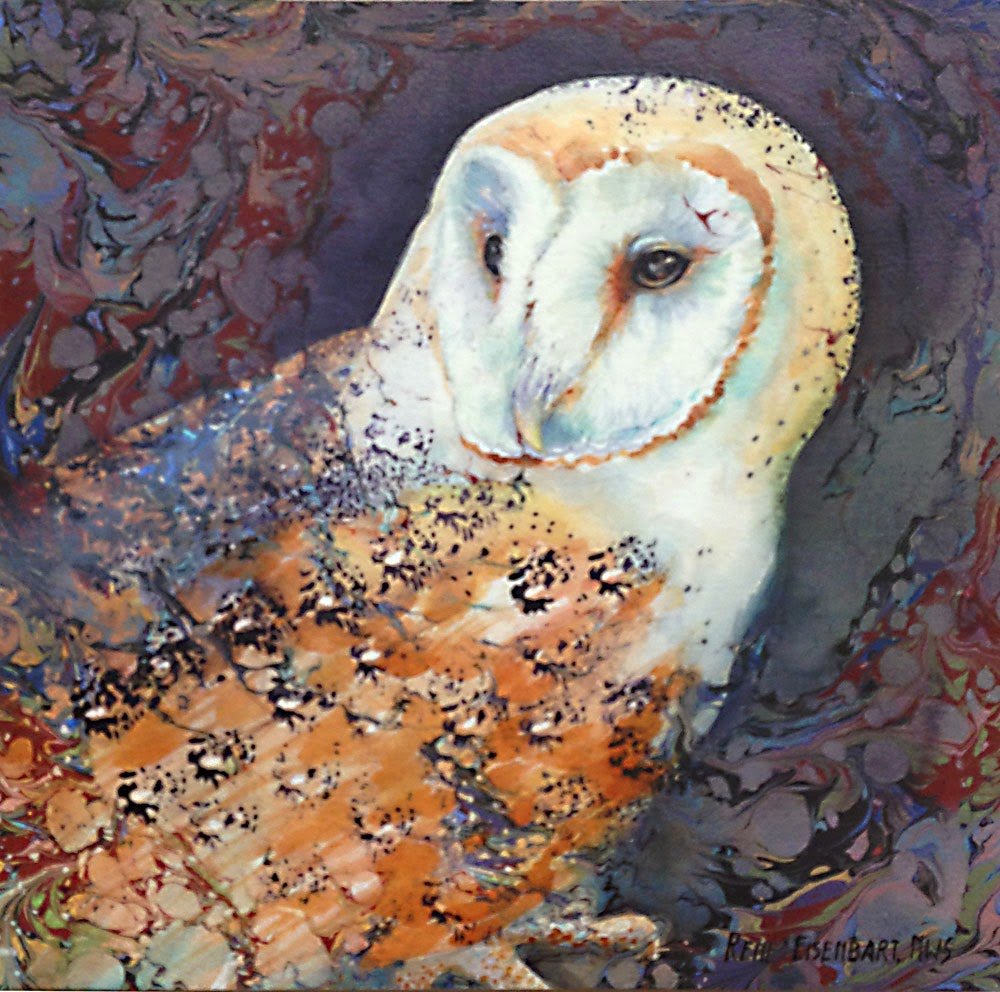 DAY 1  / Wednesday
Afternoon:
We'll start with a design lesson to help plan our paintings with a few fast "feather & fin" painting exercises to warm up. We'll discuss drawing vs. tracing or transfer (we'll use both techniques in this workshop as there is much to gain either way). Then Rene will offer a refresher on painting strategies and basic painting techniques for those who wish, while others dive into their paintings. She will also cover more advanced concepts such as the how and why of hard and soft edges.
Prepare textured paper to use on day 2 (we can texture paper for anyone who can't be there day 1 — you supply the paper).
DAY 2 / Thursday
Morning:
Work with Rene one-on-one to iron out any issues as you begin to develop your subjects. We'll do a quick image transfer onto our textured paper and begin to paint over the texture. Rene will set up a pour station and demonstrate how to create loose, interesting backgrounds. Use the transfer method again to start a duplicate painting on untreated paper to understand the difference.
Afternoon:
Work on the pours, painting over them with negative shapes and lifting out shapes. Incorporate patterning into your artwork to make it sing! We'll make patterned papers to use as collage elements in our work, using stamps, stencils and acrylic paint, working within your chosen color family. Rene will offer feedback on work in progress — feel free to also bring other artwork for critique.
DAY 3 / Friday
Morning:
We'll use collage technique over a painted background — either a painting you don't love or a background created specifically for the collage. Transform it by applying torn collage paper. Consider incorporating symbols or image elements that resonate or add personal meaning for you, making a stamp or stencil for this. Rene will offer techniques for creating a strong design which you'll use as a starting point for your collage painting.
Afternoon:
Rene will show how to use previously made paintings as collage elements in your work. Playing with the concept of ambiguity she will layer over to obscure areas then overpaint in watercolor, allowing some of the patterning to peek through. There will be a group art share (we all learn from each other) with ideas from Rene for fine tuning.