10 PAINTING HABITS TO DEVELOP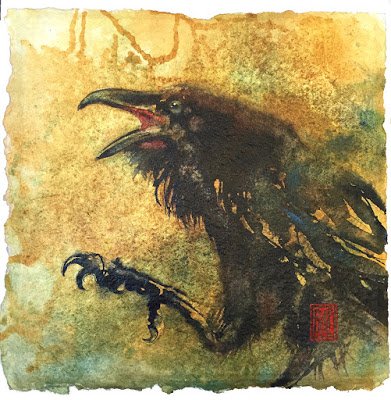 "The Raven" which hangs in OSA's 12×12 fundraiser show
sold on the opening day! I painted it on a very
textured paper called Shizen, treated with matte medium,
and over a poured watercolor background.
Preparing for a portrait session in Hermiston with Watercolor Society of Oregon, I began to think about what strategies work for me when I'm painting. So I wrote them down. I was planning on 5, but the ideas just kept coming!
Approaching my work with these ideas in mind, things seem to flow better for me. They may resonate with you, too…
1/ KNOW WHERE YOU'RE GOING
Your odds of getting there greatly increase. Make several rough sketches to work out the design issues in advance. Be sure to include value shapes and your color palette.
2/ START LOOSE
Once you begin to nit pick, it's very hard to stop. There's a place for that, but not usually right off. I often spend 10% of the time creating the bulk of a painting. Adding the last bit of paint takes the other 90% of my time!
3/ LOOK FOR COLOR
You won't see it there, in your reference, if you haven't gotten into the habit of looking for it. But when you know where to look, you will find it!
4/ LET PLAY HAPPEN
You will never know if you're going to like a painting later on unless you give it a chance. Usually the more it's mucked with the worse it looks. You can always change it later if it's still not working, but paintings often look best when you aren't controlling everything.
5/ LOWER YOUR EXPECTATIONS
Don't imagine it should look refined or finished — it's still the diamond in the rough. Becoming precious is usually the death of creativity. If even half of your paintings turn out, that's wonderful! Just make a few extra.
6/ COMBINE ALL THE BEST FEATURES
You can use the face from one photo, the body from another with a background from a different image — just be sure it all reads believably.
7/ BE PATIENT WHILE IT DRIES
Work on several paintings at once and it's much easier to stop to allow drying time at a critical point. Then check occasionally to see that you like what is happening as the paint dries.
8/ LISTEN TO WHAT THE PAINTING IS SAYING
I spend a lot of time looking at a painting in progress and thinking about where it needs to go. It will tell you, if you listen!
9/ FIND PLACES TO BLUR EDGES
Often what isn't described becomes more interesting than what is. Experiment with leaving information out to let the viewer fill it in. That way it becomes interactive!
10/ KEEP THE FAITH
Things have a tendency to fall into place if you give it time. Better to wait until you know what the painting needs than to rush in without considering. On the other hand, trying something, even when we're not sure how it will work out, is how we learn!
https://rene-art.com/wp-content/uploads/2015/11/RAVEN12x12.web_.jpg
400
391
Rene Eisenbart
https://rene-art.com/wp-content/uploads/2017/07/RAE-logo4-1.png
Rene Eisenbart
2015-11-12 04:20:00
2016-03-17 20:18:28
10 PAINTING HABITS TO DEVELOP