I've been playing with Marbling…
Besides being so much fun, it's one way to turn a painting that doesn't quite gel into something amazing. Of course, I never really know what I'll end up with, but sometimes I get lucky!
Here's an example…
This large painting of a child eating an ice cream cone doesn't work
because the hands and arms are too small and don't look natural.
Yeah, I realized this AFTER I'd spent lots of time working on it! But I
LOVE the color and texture of the thing.
So Voila… a dip in the marbling bath plus an over painting, and look…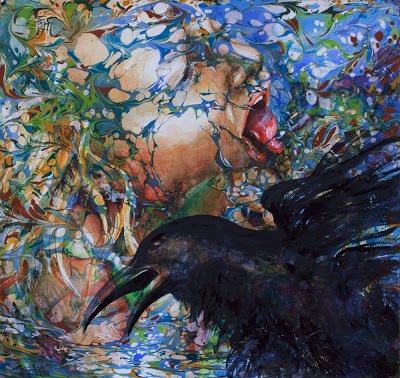 "Raven Dreams"
The hands were adequately obscured, but I felt the marbling pattern was a bit too busy — no central image or place for the eye to rest. So I added the bird, painting transparent enough that the marbling still shows through a bit. I'm thrilled to say that this painting will hang in the Spring WSO show in Albany!
…….
Below, another painting that is quite intriguing after the marbling… It's an airbrush piece that I originally painted for the Oregonian. It was a little sappy and WAY too pink! Covering it with a semi-transparent blue/black marbling pattern turns pink to violet and gives it the look of a tattoo. I also added more hair on both sides and cropped the empty space on the right. But I could still play with an overpainting…
"Pandora's Mask"
https://rene-art.com/wp-content/uploads/2013/02/girl-with-ice-cream-coneWEB.jpg
311
320
Rene Eisenbart
https://rene-art.com/wp-content/uploads/2017/07/RAE-logo4-1.png
Rene Eisenbart
2013-02-27 18:55:00
2016-03-17 20:18:34
Marbling Transformation