I LOVE HOW THINGS EVOLVE…
One thing leads to another, everything is connected!
I'd bought a quart of gold gesso from NOVA PAINT — a great source for high quality acrylic at wholesale prices.  They don't advertise or sell in retail stores which keeps the cost down – even after factoring in the shipping. 
Then I coated a full sheet of watercolor paper with gold and made a gorgeous marbling of swirled color over it.
I was mulling over the idea of painting something over it — no clue what that would be. The response from my critique group was very favorable! Someone commented that it had an Asian flair to it.
Meanwhile, I had an invitation to participate in a show put on by the OREGON BOTANICAL ARTISTS and the LAN SU CHINESE GARDEN — plants and flowers of the garden. And I thought, wouldn't botanicals be lovely over gold patterned backgrounds! Excited to try it, I marbled about 10 more sheets of gold gessoed paper.
I tried out the idea with some dogwood blossoms and the white peony, below, that I'd photographed at the Oregon Garden and was pleased with the result. 
The petals of the peony were first covered with my own mix of acrylic ground, leaving a hint of patterning show through. Then washes were layered in transparent watercolor. The foliage was painted with watercolor mixed with white gouache.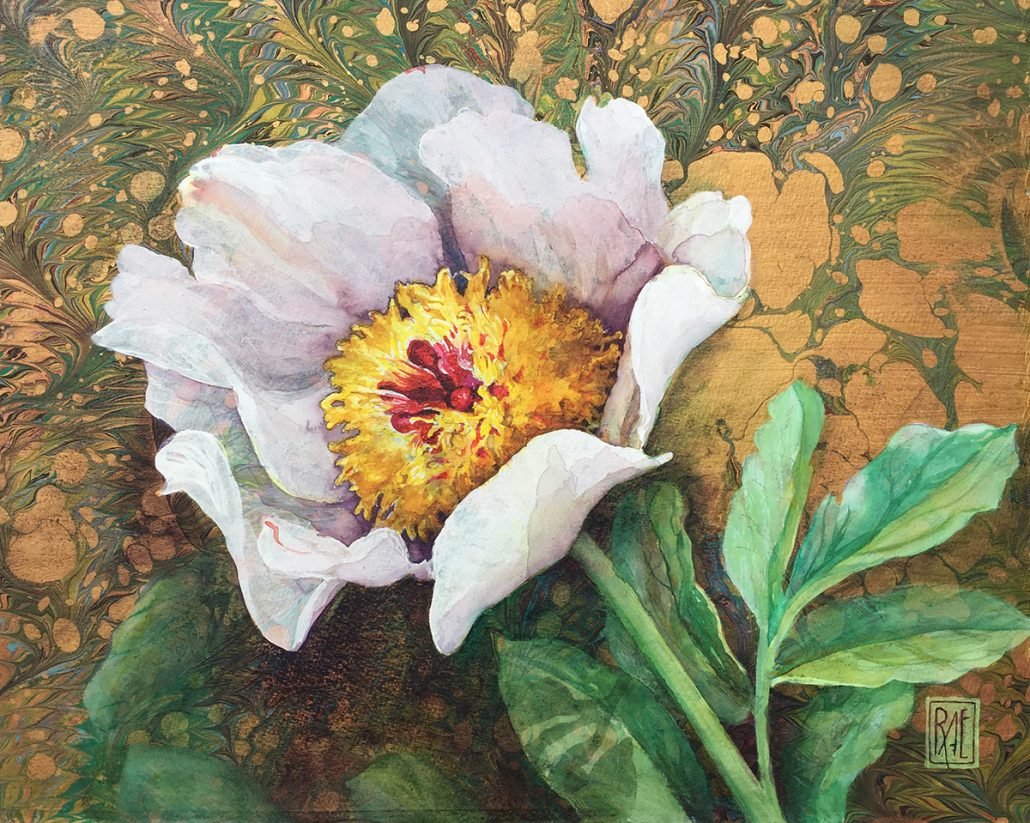 Seduced By A Peony
That brings me to a second connection…
AMERICAN EASEL makes wood cradled panels in Salem Oregon that are sold throughout the country and probably beyond.  They make the best panels available on the market.  Tammy and Kyle are the owners of American Easel and I appreciate their work ethic and also their support for artists. Here's Tammy in the office. You'll probably meet her if you go down to the factory.
They were starting a new line of gessoed panels with printed designs, called "COLOR BY ME", and asked if I could make botanical drawings for them. The concept is basically "paint by number" meets "adult coloring book"! Of course, that's right up my alley. And I thought, why not use plants from the Chinese Garden? Two birds with one stone. So I did! I drew the plants in pencil on Dura-lar film.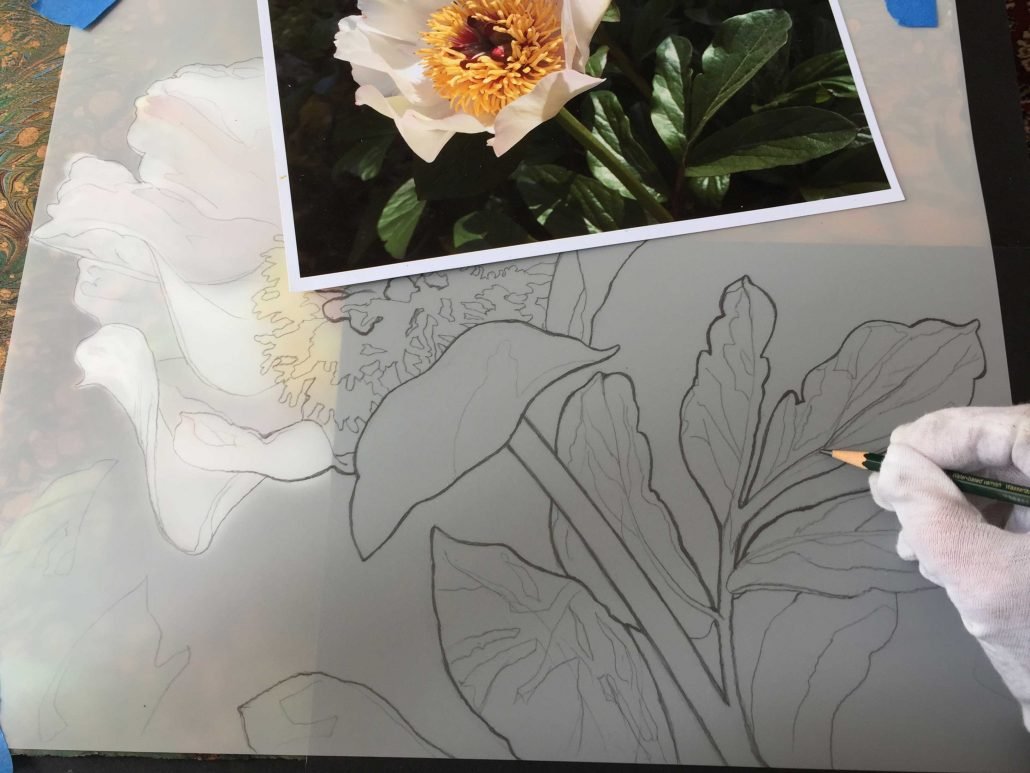 10 designs that can be purchased, ready to paint!
This concept is ideal for beginning painters. I plan to use these for my beginner class next year so we can focus on paint handling instead of drawing. It puts everyone on an even playing field. We'll work both on paper that is printed with drawings and on panels with drawings. Learn more about the class HERE.

To make this work for watercolor we had to formulate a surface that would accept watercolor paint. Standard gesso repels watercolor. I had been concocting recipes for a medium that accepts watercolor paint so I had some suggestions. We tested some of the mixes. Our goal was to have the very best surface for watercolor on a panel and I think we've achieved that! Now they're nearly ready to launch.
Here's the packaged product with Brendon's gorgeous label! I'll have painting tips online. We think they'll make great gifts.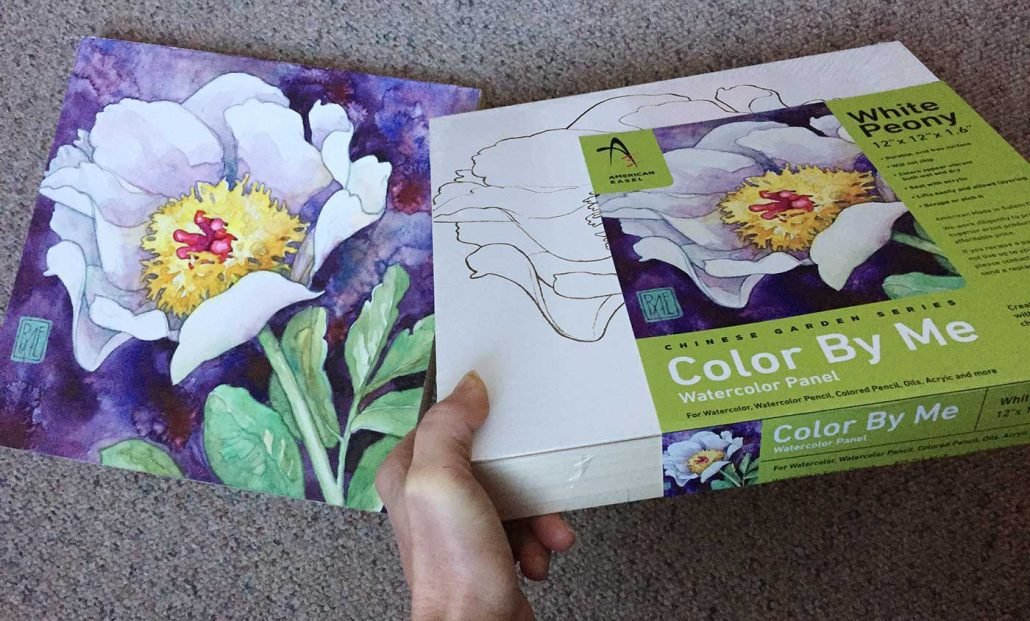 Drawing and painting these for both purposes really gives me a chance to learn to know my subject.
Back to the Chinese Garden show, the next painting on gold is my most intricate design — the Chrysanthemum. Why is it that I tend to embrace the complex? This was a time consuming prospect but I'm happy with the result!  So much so that I've used it for my holiday card.
I'm working on several more paintings, with a deadline looming in a few days for the botanical show!