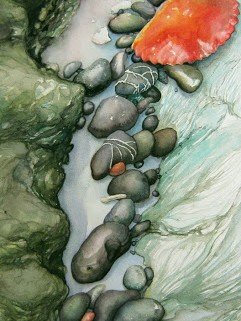 Treasures: on Black Stone
In the collection of Sanda Smith
Camping
on an island with my husband,
both sons and their girlfriends last
September,
I found myself unable to take my eyes
off the ground. It was
littered with every shape
and color of stone and shell you might imagine
—
and then some!
Upon arrival I sat in one place and picked up
about 50
shells without moving. It was hard
to take more than a couple of steps
anywhere on the island without reaching down
to pick up a pebble.
While
there, I photographed some of the stones,
and couldn't resist bringing a
few home.
A couple of the photos became reference
for these paintings,
which I've just brought back
from OSA's Marine show.
These are painted on watercolor paper,
mounted on American Easel's
Extra Deep panels, at 2 1/2 inches.


Treasures: Vein of Gold
https://rene-art.com/wp-content/uploads/2012/06/TR.onBlackStonesSM.jpg
640
241
Rene Eisenbart
https://rene-art.com/wp-content/uploads/2017/07/RAE-logo4-1.png
Rene Eisenbart
2012-06-08 23:35:00
2016-03-17 20:18:34
Inspiration Underfoot