Painting Rhodies at Chrystal Springs
Last Friday we began the
"Paint In The Garden" series,
at scenic Chrystal Springs
Rhododendron Garden.
Seven intrepid artists joined me
in painting.
I first did a demo, painting a rhody
in my journal (right), followed with
everyone painting their favorite
blossoms.
Below are images of work in progress: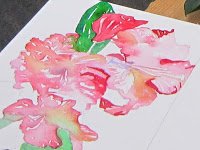 Heidi's painting
We were in the covered area, which turned out to be a good thing, as it
rained hard at times. Some very lovely work happened in spite of the weather! And the resident critters kept us entertained.
I sketched out another painting on crescent
watercolor board that is still in progress. Below is my work station. I used a lightweight wood easel.
This week Friday June 15: Hoyt Arboretum and painting needles & cones! It's supposed to be in the mid 70s…
https://rene-art.com/wp-content/uploads/2012/06/journal6697.jpg
640
383
Rene Eisenbart
https://rene-art.com/wp-content/uploads/2017/07/RAE-logo4-1.png
Rene Eisenbart
2012-06-13 18:25:00
2016-03-17 20:18:34
Painting Rhodies at Chrystal Springs