Outside a foot of ice is melting into rain — a good time to think about warm days ahead! I'm starting to pack for Hawaii while also preparing to meet with my Croatia group on Monday. I always take my painting easel on the go.
When you're traveling around or painting plein air, it's handy to have a light-weight easel that folds down compact and sets up easily. While there are many types you can purchase ready to use, I decided to design and make my own. I wanted one that's more portable than any I could find. I built this easel several years ago and have traveled with it to Hawaii, France and Italy, plus I use it for teaching throughout the region. Here I am sketching in Croatia!
To make one, you will need:
Dibond — for table surface
Spare camera mounting plate (if you want to keep the original plate for your camera)
Two tiny bolts with washers and nuts
Gatorbord – 1/4 inch
Hardware clips
Strong but light weight tripod with ball head —
I started out using a BENRO aluminum tripod which is really quick to adjust, along with my MANFROTTO ball head that uses a quick release mounting plate.
Now I often travel with a DIC & MIC tripod instead. Made of carbon fiber, it is even lighter weight than the Benro and collapses to a smaller size for packing. The screw extension system isn't quite as quick as Benro's clips  for adjusting the legs but the extra portability is worth it. Available from AliExpress for just $109, this knock-off is quite comparable in quality to way more expensive brand name tripods. And it comes with a ball head that could work almost as well as the Manfrotto.  The camera mounting PLATE for DIC & MIC may be a bit trickier to place and remove from the head each time but being thicker than the manfrotto PLATE it may be easier to attach to the Dibond.  Since my plate fits the Manfrotto head, I still use that one and just swapped out the tripod legs.
Dibond —Aluminum Face/Polyethylene Core Panel — the material I recommend using for the plate
It is not plexiglass. Dibond is a thin sheet of acrylic sandwiched between two very thin sheets of aluminum, which makes it quite strong for the weight.
It comes in different colors, white is the most economical. I believe it may be slightly thicker in width than the stuff I used — mine is actually an older scrap piece that's less than an eighth-inch thick that I bought from Multi-Craft Plastics. It is a bit larger than a quarter sheet of watercolor paper. For a larger surface I attach a sheet of 1/4 inch gatorboard using hardware clips. More width would actually make construction easier, with less grinding required.
Multi-Craft Plastics
7298 SW Tech Center Dr
Tigard
(503) 352-0970
Assembly is pretty easy if you have some power tools and a handy man! Basically, you just bolt a camera mounting plate onto a sheet of Dibond. My husband Tom did the drilling & grinding.
Holes were drilled in the Dibond, wedge shaped at the top, so the bolts will counter sink into the Dibond plate. Tom then drilled two holes in the camera plate, one on either side of the center hole. He modified a couple of small, phillips, flat head bolts to fit, cutting off the ends of the bolts (after inserting). He also ground down the flat "head" ends of the bolts so they would fit flush when placed in the holes.
He ground the nuts down to be thin enough to fit flush inside the recess of the plate. Then I painted the hardware with black acrylic paint.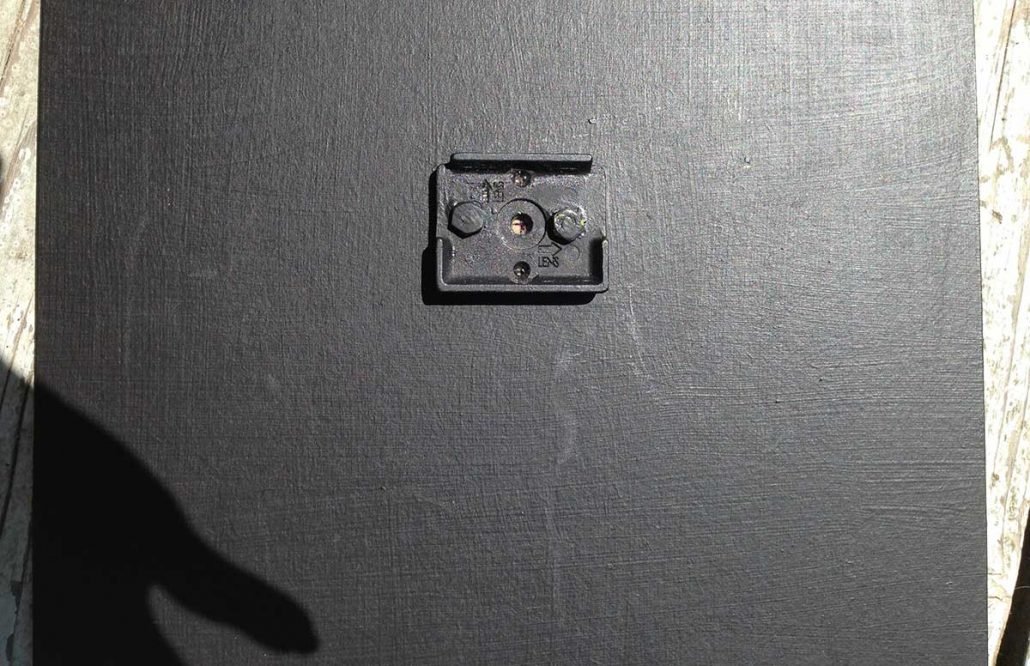 Ideal for painting plein air, this painting easel has already given me years of use! I've never seen one I like better.
https://rene-art.com/wp-content/uploads/2017/01/easelWEB12.jpg
724
1000
Rene Eisenbart
https://rene-art.com/wp-content/uploads/2017/07/RAE-logo4-1.png
Rene Eisenbart
2017-01-18 12:17:44
2017-01-18 12:17:44
MAKING A PORTABLE EASEL