ITALY 5.14 / TASTE OF TUSCANY
No tour of Tuscany is complete without a culinary discussion. And not surprisingly, food is a reoccurring theme for us. Is it because the ingredients are so fresh that food tastes better there? Maybe it's the artisan and farm to table fare? The sensuousness of the culture? The fine local wines? Or is it simply dining al fresco?
THE ANTEPRIMA
Whatever the reason, we all agree that food tastes better in Italy.
And Italians do amazing things with cured meats. Below are piled up samples or rustic meats and breads at the May food festival in Lucca, called the Anteprima.
Monica, who we met this year, is showing Helen and Tom the wool from her cashmere goats. She also sells wonderful mildly flavored goat cheeses, both hard and soft, which she makes very near our villa!
La CHIUSA di NANNI
Here's Giovanna, who sells our favorite olive oil — La Chiusa di Nanni — from her olive groves just below our villa. No one we've met in Lucca is more gracious than Giovanna. When we visit she brings out wine to share with us and home baked biscuits made with olive oil. This year she also prepared a wonderful Tuscan meal for us at her nearby cantina. It was a traditional Italian eating experience that spanned the entire evening, including home pickled vegetables, tuscan bean soup, prosciutto, strawberry tiramisu and liquors! We were joined by Kaegan and Sasha who were biking through Italy.
MARY LEE and MARINA
This menu is from the fabulous meal that was prepared for us by longtime friends Mary Lee Damutz and her daughter, Marina, who live in a small rural village, Nocchi. The raviolis were made from scratch in our kitchen while we watched. Marina had picked the nettles and borage for the filling that morning. Below, on another occasion, they are showing us how to make tiramisu!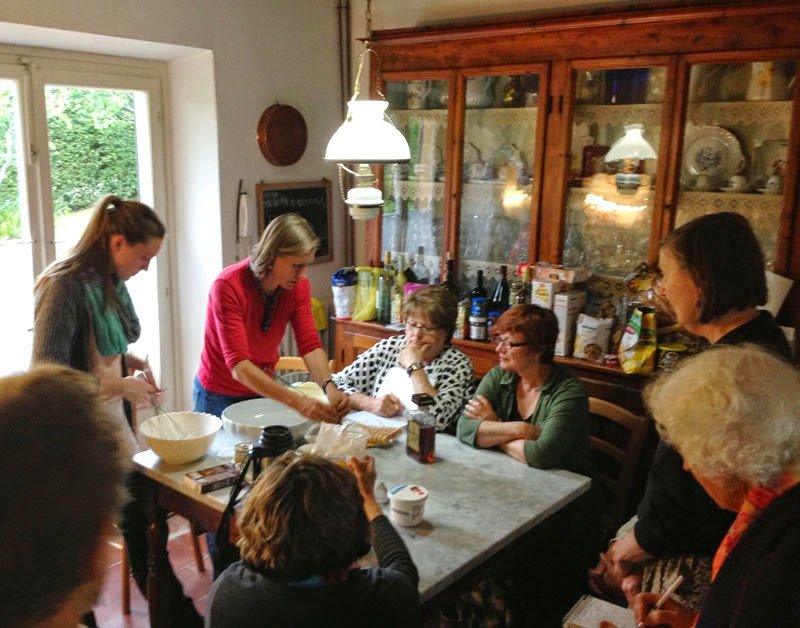 HOME COOKED
We found these artichokes in Lucca at the
Saturday Market…
Below you see them on the table
with fresh pasta and salad! Yum…
The ambience and appetites improve as the shadows lengthen!
AROUND TOWN
Here's rustic bread from the festival in Altopascio.
My favorite is the dark walnut bread
in small round loaves.
Tuscany is filled with small eateries that ooze with local color. Perfect for a lunch, or inspiration for a painting!
And then there's Gelatto! Our favorite in Lucca is Venita.
https://rene-art.com/wp-content/uploads/2014/06/antiprimaWEB.jpg
1068
800
Rene Eisenbart
https://rene-art.com/wp-content/uploads/2017/07/RAE-logo4-1.png
Rene Eisenbart
2014-06-02 12:04:00
2016-03-17 20:18:29
ITALY 5.14 / TASTE OF TUSCANY